Root Canal Therapy at Madigan Dental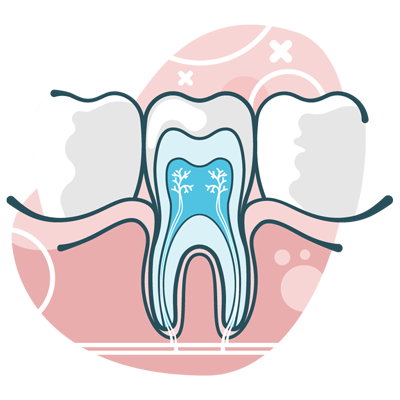 At Madigan Dental, we offer solutions to help you keep your smile healthy. We want to ensure that both your tooth and gums stay in great shape for life. If you have an infection in your tooth, you don't want to face losing it or having the tooth extracted. To save your tooth, we can perform root canal therapy.
This straightforward procedure involves cleaning up the infection, then sealing off your tooth and making sure it's strong with a dental crown placed on the tooth. To understand root canal therapy, it's important to understand how your tooth functions.
What's in a Tooth?
Root canal therapy is also known as endodontic treatment. Your tooth has an outer layer called enamel. Under that is a layer referred to as dentin. The final layer is called the pulp. In the pulp, you'll find nerves, blood vessels and connective tissues. It's what creates the rest of your tooth when they begin to develop. Though the pulp is responsible for the growth of the tooth, the tooth no longer needs the pulp when it is fully mature.
Root canal therapy is beneficial when you have an infection that has gone deeply into the tooth down to the pulp. It can result from decay, a crack in the tooth, a form of trauma or repeated procedures that have weakened the tooth. If the pulp of a tooth is left infected or inflamed without treatment, you can get an abscess, feel severe pain and even have to face losing the tooth.
We'll evaluate your tooth and take diagnostics such as X-rays. From this examination, we'll be able to see the infected tooth and how best to complete your root canal therapy. You'll receive anesthesia to make sure that you're comfortable. Then, the tooth to be addressed is isolating, protecting the rest of your mouth.
The infection is gently removed from the tooth. The area is then filled with a packing material and sealed off so that the bacteria that caused the infection cannot reenter. You'll have a temporary restoration placed on the tooth to help give it greater strength. The final step is to have impressions taken of your tooth. Our laboratory will custom-create a dental crown for you. When it's completed, we'll remove your temporary restoration and place your permanent crown on the tooth.
Book Your Visit Today
Did you know that we offer same-day appointments? Get the attention you need today with root canal therapy in Calgary NE. Contact our team now!
CONTACT US »
Schedule Your Appointment Today
Contact us today to schedule your appointment for general dentistry in Calgary NE! We have same-day visits available.
*Our services are provided by general dentists.

Root Canal Therapy Calgary NE, Marlborough Park AB | (403) 273-3166