Restorative Dentistry at Madigan Dental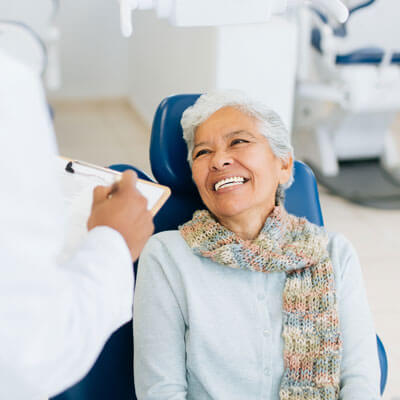 The Madigan Dental team is here to make sure that your smile functions as it should with a look that you'll likely be proud to show off. If you have had damage to your teeth or gums, you may be looking for a way to make repairs to your smile. We provide an array of restorative dentistry options so that you can feel confident again.
All of the products involved in our restorative services are created at a local laboratory. Our dentist works with them to make sure that each restoration is made to exact specifications to suit your needs. Our solutions include tooth fillings, inlays and onlays, dental crowns, dental bridges, full and partial dentures, dental implants and full mouth restorations.
Tooth Fillings – Tooth decay can set in even if you try to stay on top of brushing, flossing and having your six-month checkups with us. If you have a cavity, you need to fill it. Our tooth-colored fillings are designed to blend in with the rest of your teeth.
Inlays and Onlays – If your tooth is too damaged to receive a filling, an inlay or onlay may be your best option. It is custom-made in our laboratory. An inlay or onlay covers more of your tooth than a filling does, allowing you to enjoy its full function again.
Dental Crowns – Your tooth can become worn down with time, from decay, an infection or can be subject to a type of trauma. If the structure of your tooth has been compromised, a dental crown can go over the remaining tooth. When applied, a crown can give your tooth greater strength and stability.
Dental Bridges – Missing teeth can leave you feeling like you want to hide your smile from others. We can give a much-needed boost to your self-esteem with a dental bridge. This tooth replacement will fill the gap in your mouth so that you can eat your favorite foods and smile with confidence.
Full and Partial Dentures – Today's dentures are comfortable, snug-fitting and customized to suit your particular needs. They're available in full or partial forms. You can replace all upper teeth, all lower teeth, all of your teeth or just a few of your teeth with our dentures.
Dental Implants – You can complete the entire procedure for getting a dental implant in-house at Madigan Dental. If you have your surgery elsewhere, we can also complete the restoration portion of your implant process. This tooth replacement has revolutionized the dental industry. We believe that an implant looks, feels and functions just like a natural tooth. An implant may last for your lifetime!
Full Mouth Restoration – If you have had more extensive damage to your teeth and gums, there are options for you. We can provide a personalized full mouth restoration that combines the best available services to suit your particular needs. You and your dentist will work together to make sure that you get the results you want.
Now Accepting the White Card
We're pleased to accept the White Card for dental services. Contact our team today to schedule your appointment with us!
CONTACT US »
Schedule Your Appointment Today
Contact us today to schedule your appointment for general dentistry in Calgary NE! We have same-day visits available.
*Our services are provided by general dentists.
Restorative Dentistry Calgary NE, Marlborough Park AB | (403) 273-3166