Porcelain Veneers at Madigan Dental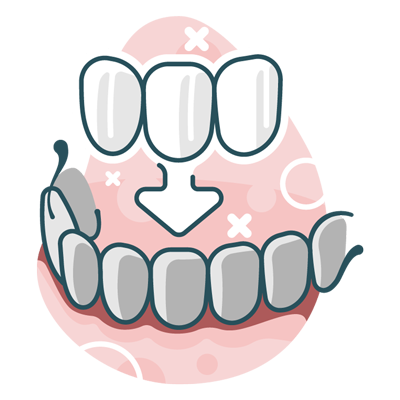 When someone has a smile that is perfectly aligned and bright, you may take notice. If you would like to make a positive first impression on others and get a boost to your self-confidence, you may want to explore the idea of getting porcelain veneers.
Available at Madigan Dental, veneers are an option to mask imperfections in your smile such as
Chipped teeth
Gapped teeth
Misshapen teeth
Misaligned teeth
Stained teeth
The Details About Veneers
If you've seen a fake fingernail before, you'd probably think that a veneer looks quite similar. It's placed on the front of your existing tooth structure. When you have veneers, your smile could look natural and beautiful. Any oral health concerns that you have may be masked by your veneers so that you can feel great showing off your new smile.
FAQ
What happens when I get veneers?
You'll need a total of two visits to our office to have the process for veneers completed. During your first visit with us, we'll discuss what you would like to achieve and make sure you're a candidate for veneers. Then, we'll take information that our laboratory needs to create your veneers. Once the laboratory has created them, they'll be sent back to us. You can return for a follow-up appointment to have your veneers placed. You and your dentist will examine them. When you're both satisfied, we'll cement the veneers into place.
How long will my veneers last?
If you take proper care of your veneers, they could last for several years. You must follow certain guidelines to protect them. Avoid chewing ice or opening packages with your teeth, as they can be easily damaged. We'll see you for your regular checkups and evaluate your veneers to make sure they're in good shape.
Why are my veneers created from porcelain?
Porcelain has many properties that make it appropriate for veneers. It's strong, natural-looking and will last for years with the appropriate care. With porcelain veneers, very little of your tooth material has to be removed so that they can be applied. It is a less invasive procedure and involves a lower cost than other, similar procedures.
Am I a Candidate for Dental Veneers?
Veneers are for teeth that are relatively healthy. If you have an active area of tooth decay or existing gum disease, it's important to treat those first. Otherwise, covering them up will just jeopardise the success of your smile makeover.
How do I Maintain Dental Veneers?
Floss and brush your veneers daily. You won't have to worry about floss pulling them off, because they're bonded closely to your enamel. Schedule regular scale and cleans every six months to have any out-of-reach buildup carefully removed.
Your Smile Planning Experience
If you're thinking about getting a smile makeover, the first step is to schedule a consultation with our dentist to discuss your concerns. We'll want to know what you don't like about your existing smile or what it is you're hoping to change. From there, we'll discuss the various options available to address those issues.
Should veneers be the best cosmetic dentistry treatment, we'll begin planning your desired tooth size, shape and colour. There are dozens of different options available, giving you opportunity to create the beautiful smile that you're looking for.
After we've settled on the best plan, our treatment coordinators will give you an outline of all of the fees and appointments involved, so that you have the information you need to decide if you want to take the next steps.
What to Expect During Treatment
Porcelain veneers take two separate appointments to prep and place. During your first visit, we'll numb the teeth being treated so that we can slightly reduce the thickness of your enamel. From there, we'll take a mould of your teeth to send to our lab, where the final porcelain veneers are designed by hand. In the meantime, we'll place temporary veneers over your teeth to prevent any sensitivity.
About two weeks later, your permanent veneers will be ready to bond in place. We'll try them in to make sure everything is to your liking, then use a special type of glue to affix them to the front of your teeth.
Get Started On Your Ideal Smile Today
Don't delay in getting the care you need and deserve. Contact our team today to book your first appointment with us! We offer same-day appointments and late opening hours that work well for busy schedules.
CONTACT US »
*Our services are provided by general dentists.

Porcelain Veneers Calgary NE, Marlborough Park AB | (403) 273-3166