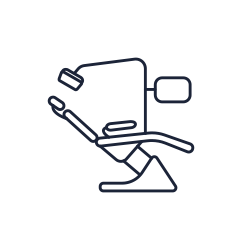 Oral Surgery at Madigan Dental
Madigan Dental provides family-friendly dentistry for all ages. Through each stage of life, we can help make sure that your teeth and gums stay in great shape and provide you with the dental solutions you need. If you require oral surgery, we can help you on-site. The oral surgery procedures we provide include routine tooth extractions, wisdom teeth extractions, and the placement of dental implants.
We approach dental care conservatively and try to preserve your natural teeth whenever possible. In certain cases, however, you may have no choice but to have a tooth extracted. If so, rest assured that we'll make sure you are comfortable during your extraction. We'll take diagnostics such as X-rays to determine the best way to go about the extraction. With a gentle touch and years of experience, we'll complete the procedure as quickly as possible.
The many situations in which a tooth extraction may be necessary include

A trauma
Advanced gum disease
Overly crowded teeth
Prior to having dentures fitted
Prior to orthodontic treatment
Severe decay
Your wisdom teeth are the final teeth to grow in. Located at the back of your mouth, there may not be sufficient space for them to erupt. In such a case, having them extracted may be advisable. Our specialist performs wisdom teeth extractions on-site. We'll perform a full evaluation of your wisdom teeth to determine the most efficient and effective way to extract them. You'll be advised on all necessary instructions to take good care of yourself afterward.
Are you interested in replacing your missing teeth? We can provide a solution with dental implants. Your implant may look, feel and function just like a natural tooth. The two-stage process involves having the titanium post implanted into the jawbone. After the site heals, we can place a crown or bridge on your implant to complete the process.
Recovery Following Oral Surgery
Most post-operative discomfort is associated with swelling or at the site of any incision/injection. To minimise soreness, we recommend taking anti-inflammatory medication that's available over the counter, such as ibuprofen. Follow the label as direct. Additionally, alternating a cool compress on and off the side of your face every 20 minutes can keep inflammation to a minimum.
If for any reason you develop a fever, redness or swelling, let our office know immediately. We might also have a follow-up appointment scheduled in advance if we need to remove any sutures or check on your recovery.
Any discomfort should improve over the next couple of days. If you had a tooth removed or wisdom tooth extraction, be sure to follow your post-operative instructions as closely as possible to limit your risk of developing a dry socket. Avoid things like hard foods, drinking through a straw, tobacco or alcohol use, exercise or vigorous swishing for the first several days.
After Tooth Removal
Having a problematic tooth extracted may seem like the last stage of your treatment. But creating extra space in your smile without replacing your tooth can lead to changes in bite alignment. Planning for a dental bridge or implant will need to be part of your overall restoration process. The sooner you replace your missing tooth, the more likely we can help preserve your existing tooth spacing and alignment.
Keeping You Comfortable
How you feel during your visit is important to us. We want to make sure you're relaxed and that the procedure can be performed as efficiently as possible. When you feel comfortable, we can focus on the surgery at hand. Before starting any type of treatment, we'll thoroughly numb the area at hand so that you can't feel anything other than a bit of pressure. Sleep dentistry (sedation) may also be available upon request.
Will I Need to See a Specialist?
We're able to complete many types of oral surgery here in our family dental office. If for any reason there's a case that's more complex, our dentist will recommend a consult with a specialist. There are many experts in our area who we work closely with to provide comprehensive care to our patients. Upon completion of the treatment, your post-operative visits will usually take place in our office. We'll let you know if a referral is necessary during your initial exam and consultation.
Book Your Visit Today
Did you know that we offer same-day appointments? Get the attention you need today in Calgary NE. Contact us for oral surgery in Calgary NE!
CONTACT US »
Schedule Your Appointment Today
Contact us today to schedule your appointment for general dentistry in Calgary NE! We have same-day visits available.
*Our services are provided by general dentists.

Oral Surgery Calgary NE, Marlborough Park AB | (403) 273-3166