New Patients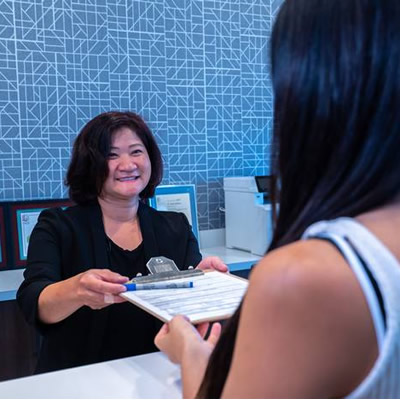 Madigan Dental is a warm, welcoming office with a friendly staff who will greet you when you walk in. If you provide us with your insurance information when you call, we'll check your coverage ahead of time. We ask that you arrive 15 minutes early to fill out your new patient paperwork before your first appointment.
Getting Started
Our patients usually schedule their first visit for a checkup and cleaning. Our dental hygienist or dental assistant will meet you in the waiting area, then bring you back to a private room. You can choose a program on television or listen to music on the headphones we provide.
If you're having a checkup and cleaning, the hygienist will clean your teeth and take X-rays. Then, you'll meet your dentist to have a full examination of your teeth and gum health. We'll go over your X-rays and show you pictures of your teeth so that you can see what we see. If you need further treatment, we may be able to provide it on the same day as long as time allows.
A new patient appointment takes about an hour and a half. On your way out, we'll book you for your next visit.
Insurance Information
We take nearly all insurances. If you're wondering whether you have coverage, we'll be happy to check into it for you and let you know.
Schedule a Same-Day Visit
Would you like to get immediate attention? We're pleased to offer same-day appointments. Contact us now to schedule your visit!

New Patients | (403) 273-3166