General Dentistry at Madigan Dental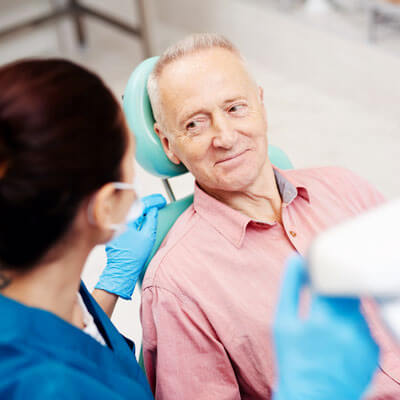 At Madigan Dental, we aim to provide quality dental care for all ages. We welcome every member of your family, from children to adults. Our practice has been a part of our community for more than three decades. Over the years, we've enjoyed helping area residents show off bright, healthy smiles.
With our full range of general dentistry solutions, we can help to keep your teeth and gums in great shape for life. We provide examinations, cleanings, X-rays, oral cancer screenings, custom sports mouthguards and grinding/bruxism appliances.
Examinations – At your routine visits, we'll perform a thorough check of each tooth and every part of your gums. We'll also take a look at the soft tissues of your mouth. In evaluating your oral health, we'll identify any problem areas that can be addressed immediately. You could avoid having costlier, more complex work in the future by having regular examinations every six months.
Cleanings – Our hygienist performs comprehensive cleanings that will leave your teeth feeling smooth and clean. Most often, a cleaning is done in combination with your routine examination, though you can schedule for a cleaning only if you feel you need it. If required, we can recommend that you see the dentist to have any other issues addressed.
X-rays – Our digital X-rays will allow us to see the spaces between your teeth that can't be viewed with the naked eye. They're taken at regular intervals so that we can monitor any changes in your mouth. When they're necessary, we'll be sure to discuss it with you so that you know why. Your X-rays can serve as an important guide in the dental care that you receive.
Oral Cancer Screenings – Part of your routine examination with us involves an oral cancer screening. We'll inspect your mouth for any early signs of oral cancer. If identified, we'll refer you to a specialist to get the more extensive evaluation you need.
Custom Sports Mouthguards – If you or your child plays sports, you know there is a risk of injury. An injury to your mouth can affect your jaw joint, teeth, tongue, lips, cheeks, head and neck. We create customized mouthguards that fit you perfectly. When you wear them, you'll have the measure of protection that you need.
Grinding/Bruxism Appliances – If you grind or clench your teeth, you might suffer from painful headaches and have problems with your jaw joint. If so, we can provide you with an individualized night guard that can protect your teeth. We can also give you a TENS unit as an option for temporomandibular joint (TMJ) disorder treatment.
Schedule Your Appointment Today
Contact us today to schedule your appointment for general dentistry in Calgary NE! We have same-day visits available.
*Our services are provided by general dentists.

General Dentistry Calgary NE, Marlborough Park AB | (403) 273-3166