Bridges at Madigan Dental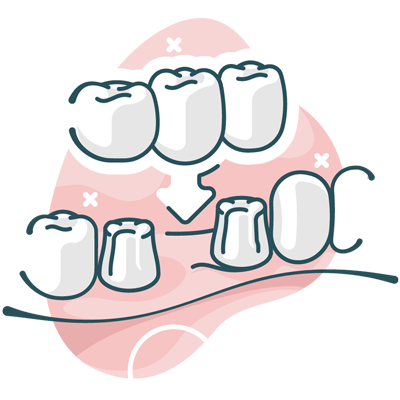 Our welcoming, friendly team is here to cater to the needs of your entire family. At Madigan Dental, you'll have access to a full suite of dental services. No matter what your concerns may be, we'll evaluate you and make our best recommendations to you. You'll be given all possible treatment options so that you can decide how you would like to proceed.
If you're looking for a tooth replacement, a dental bridge may be right for you. It's a cost-effective way to replace a single tooth or multiple missing teeth. Our bridges are created at our local laboratory to our exact specifications. We want you to be thrilled with your results!
What Is a Bridge?
It's no surprise that a dental bridge acts much like a regular bridge. It spans the gap where teeth are missing, suspending false teeth into the open space. A bridge is made up of a row of fake teeth. On the end are crowns that can be attached to the teeth on either side of the gap. The middle teeth will fill the open gap, restoring your full smile.
FAQ
What are the advantages of choosing a dental bridge?
When you decide to replace your teeth with a dental bridge, there are many advantages. It is fixed in place, so you won't have to worry about removing it or soaking it at night as you would dentures. It's cost-effective, so it's a more budget-friendly option than other replacement solutions. Finally, a dental bridge is created to fit in perfectly with the rest of your teeth, giving a natural look to your smile.
What other tooth replacement options do you offer?
If you would like to learn about your other choices to replace a tooth, we'll go over all of them with you. Full and partial dentures or denture implants may be more suitable for you. We'll talk through all the advantages and disadvantages so that you can decide what you would like to do.
How many appointments will I need?
To get a dental bridge, two appointments are necessary. At your first visit, we'll take impressions and gather information that our laboratory will need to make your bridge. When it's completed and sent back to us, you can return for a follow-up. We'll fit your bridge into place, then cement it so that you don't need to worry about its stability.
Same-Day Visits Are Available
Get the attention you need. Contact us today to schedule a same-day appointment for dental bridges in Calgary NE!
CONTACT US »

Dental Bridges Calgary NE, Marlborough Park AB | (403) 273-3166