Implants at Madigan Dental
At Madigan Dental, we provide a full range of options for your dental care. Every member of your family, from kids to seniors, can find the solutions they need at our office. Missing teeth can happen from many situations. They may have been lost due to gum disease, severe decay, trauma or have simply worn down over time and are no longer vital.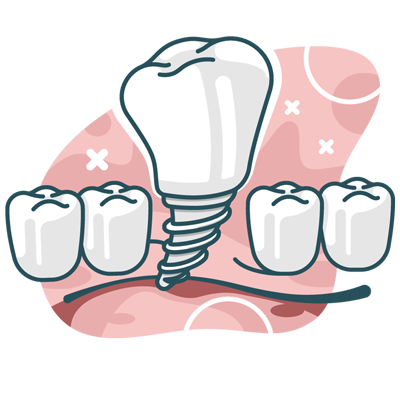 If you need to replace one tooth or multiple teeth, we feature dental implants as a tooth replacement option. A dental implant may give you the look, function and feel of a natural tooth. There are many advantages to choosing dental implants;
A historically high success rate
Could last for a lifetime with the proper care
Easy to maintain
Fixed in place with no removal necessary
Is considered to have the appearance of a natural tooth
Made from bio-compatible materials
A dental implant is a titanium post. This post is inserted into your jawbone during a surgical procedure. When the site has healed, the implant is accepted into the jawbone just like the root of a natural tooth would be. On the implant, you can attach a crown or bridge depending on how many teeth you need to replace.
At your initial consultation, we'll determine whether you are a candidate. You must have adequate bone material and be in otherwise good oral health. If you have an issue such as gingivitis, we will provide you with the proper treatment before you start your implant process. The two stages involved in getting a dental implant are as follows:
Placement. Your dental implant is surgically placed. A healing period must follow.
Restoration. We'll place a crown or bridge on your dental implant.
Have you had your surgical procedure already? You will need to have a crown or bridge attached to your dental implant once the site has healed. Our dentist can place your restoration on top of the implant, even if you didn't have the surgery at our office.
Implant Care and Maintenance
Dental implants don't get cavities, but they are susceptible to gum disease. If the gums around your implant become inflamed, we call it "peri-implantitis", which is the implant form of gingivitis. If it's allowed to progress, this infection can lead to deterioration of the structures that support your prosthesis.
To prevent implant failure, you need to treat your restoration like it's a natural tooth. Schedule regular cleans twice per year, brush the gumlines twice per day and floss daily. If you have any trouble keeping your implant clean, let us know. We can walk you through additional methods such as using a threader or water flosser to access hard-to-reach areas.
Dental Implant Crowns
For the majority of cases, your dental implant will need a custom crown. Individual implants and crowns are what we use when there's just one tooth that's missing. The implant itself will have a small abutment on top of it where the crown is attached. When you smile, it blends in with your overall smile.
Dental Implant Bridges
In lieu of wearing a removable partial denture, we often suggest an implant-supported bridge. Like traditional brides, the multi-tooth restoration fills in the gap left by several missing teeth in a row. However, you don't need a healthy tooth on either end to support it. Instead, we use a pair of implants. When that's the case, we can replace up to four or more teeth at a time, where conventional bridges only replace one or two teeth.
Implant Supported Dentures
Are you currently wearing dentures or searching for the best way to replace your missing teeth? An implant-supported appliance might be the best solution!
Implant dentures can be removable (stabilised) or permanently affixed into place as a hybrid device. Depending on the type you choose, you may only need 2-4 implants total.
Does it Hurt to Get Implants?
Having implants placed is relatively straightforward. Only a small amount of local anaesthetic is needed. You really shouldn't feel a thing except a small amount of pressure. But if you feel nervous, just let us know! We can arrange a light sedative (such as laughing gas) to help you feel relaxed so that your appointment can be completed as efficiently as possible.
Book Your Time Today
We're available with late opening hours and same-day visits. Contact our team today to schedule your appointment!
CONTACT US »
*Our services are provided by general dentists.

Dental Implants Calgary NE, Marlborough Park AB | (403) 273-3166