Crowns at Madigan Dental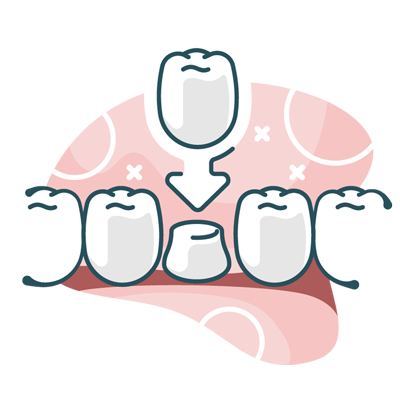 The team at Madigan Dental has dental solutions for your entire family. With our suite of services, we can see all ages of patients. If you have had a tooth that is damaged, it may be weakened. You want to enjoy the full function of your tooth and feel proud of the way your smile appears.
Damaged teeth can benefit from having a dental crown. The many types of oral health concerns that can be addressed by a crown include
A filling that has failed
After having root canal treatment
Broken teeth
Cracked teeth
Fractured teeth
Severe tooth decay
Worn-down teeth
What Is a Crown?
A crown, also called a cap, goes right over your existing tooth structure, covering it to the gumline. It can prevent further damage from occurring. Dental crowns can be made from different materials. The most popular are white crowns that won't stand out from the rest of your smile.
What to Expect in Getting a Dental Crown
When we have determined that you have a tooth that needs a crown, we'll walk you through the process of what to expect. Impressions are taken of the tooth that is to receive a crown. You'll have a temporary crown affixed to your tooth so that further damage doesn't occur.
Then, the impressions we took will be sent to our local laboratory, where your crown is made. When it's been completed, you can return for a follow-up visit. We'll place your crown and cement it onto the tooth.
We Accept Health Insurance
You can use your health insurance coverage at our office. We also welcome you to use the White Card for your dental care. If you do not have any coverage for dentistry, we'll be happy to discuss payment plan options with you.
Learn about crowns in Calgary NE and how they can help you have a strong, vital smile again. Contact our friendly team today to schedule your appointment! Same-day visits are available and we have convenient late opening hours.
CONTACT US »
*Our services are provided by general dentists.

Dental Crowns Calgary NE, Marlborough Park AB | (403) 273-3166