Cosmetic Dentistry at Madigan Dental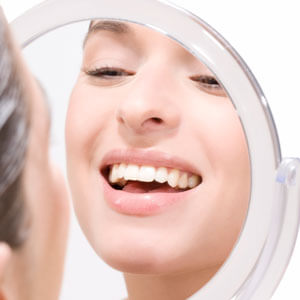 How do you feel about the way your teeth look? We think that you deserve to be proud of your smile. If you would like to make a change, we provide an array of options within cosmetic dentistry. In Calgary NE, cosmetic dentistry is available for those who would like to show off a more aesthetically pleasing look. Your treatment options include tooth bonding, porcelain veneers, tooth recontouring, teeth whitening and smile makeovers.
Tooth Bonding – If you have teeth with imperfections, they may be addressed through tooth bonding. This process involves the application of a specialized material to your teeth. It can correct misshapen teeth, cover discoloration and mask a range of other imperfections. We'll carefully apply and shape the material so that it looks perfectly natural.
Porcelain Veneers – Porcelain veneers can address various tooth imperfections. Your veneers will be custom-created just for you. They're applied to the front of your teeth to help give you an aligned, bright appearance.
Tooth Recontouring – If you have teeth that don't look uniform or are misshapen, teeth recontouring may be the right solution for you. Your teeth can be reshaped by having them recontoured. Your smile may have a more symmetrical, beautiful look. Often, our patients choose to have recontouring in conjunction with bonding to get the best possible results.
Teeth Whitening – If you're interested in having a brighter smile, you may want to learn more about our teeth whitening options. We provide you with an in-office whitening procedure or a convenient take-home kit, depending on the results that you would like to achieve. We'll let you know what you can expect from each option so that you can decide how you would like to proceed.
Smile Makeovers – If you require more complex work, we'll be pleased to work with you in creating your ideal smile makeover. You'll sit down with your dentist to discuss what you would like to achieve. Then, we can make a plan that works for you. Treatment can be completed in as few visits as possible or we can space out your appointments in a time frame that works best for you.
Your Smile Makeover Consultation
Before you commit to any type of cosmetic dentistry treatment, we'll want to see you for a consultation and exam. During your appointment we'll take a series of X-rays, photographs and possibly impressions of your teeth.
We want to hear from you when it comes to your goals for your smile. If you have examples of what you like or don't like, feel free to share them with us! Photographs from magazines or on your phone screen are fine. We want your case to be one that looks beautiful, yet natural. Since everyone has their own preferences, your opinions matter to us!
Is Cosmetic Dentistry Right for Me?
Most of our cosmetic dentistry patients are people with concerns like
Feeling embarrassed by their teeth
Having a specific tooth or feature that detracts from their appearance
Missing teeth
Being able to have a healthy, professional appearance
Elective cosmetic treatments like whitening or veneers can have a nearly instant impact on the way your smile looks. So, if you want to make a great first impression at that next job interview or look your best for your wedding day, you have more than just one choice when it comes to accentuating your teeth.
Plus, we can combine cosmetic dentistry treatments with tooth-coloured restorations like white fillings and porcelain crowns. That way when teeth with cavities or fractures need to be repaired, an aesthetic material can restore your tooth and still blend in with the cosmetic treatments around it.
The ideal cosmetic dentistry candidate is someone with healthy gums and teeth. We never want to place an aesthetic restoration over a tooth with active disease. Additionally, most procedures are reserved for adults. However, there are certain types of treatments — such as bonding — that are appropriate for teens or children with an atypical or chipped front tooth. Specific treatments like whitening are also contraindicated for women who might be pregnant or are nursing.
Investing in a beautiful smile is something that people do for a variety of different reasons. When we work together to find solutions for your aesthetic concerns, we'll present customised plan that outlines the recommended treatments, time commitment and costs involved. It's possible to combine a variety of different strategies to help you achieve the overall appearance that you're looking for. From there, we'll work as a team to plan the next steps and initiate your smile's transformation.
If you think that smile makeovers are only for people in Hollywood, think again! We're able to make dazzling teeth a reality for just about anyone, thanks to the curated treatment planning process.
After you get cosmetic treatments like bonding or veneers, it's important to safeguard your smile so that they don't break or chip away. We recommend getting fitted with a night guard so that any grinding/clenching that happens overnight won't damage your smile. All you'll need to get one is an impression of your teeth after your smile makeover is completed.
Be sure to keep your teeth clean by brushing them thoroughly twice per day and flossing at least once daily. It's important to prevent plaque from settling in around the edges of your new restorations, where it could creep under the margins. If that were to happen, you could develop a cavity or the restoration possibly fall off. By scheduling a checkup every six month, we can make sure your smile looks healthy and make you aware of any specific areas that require attention.
Payment Plans Are Available
We want you to have access to the care you need. If you are interested in a payment plan, we'll be happy to discuss your options with you. Please get in touch with us today to learn more or to schedule your first visit with us!
CONTACT US »
*Our services are provided by general dentists.

Cosmetic Dentistry Calgary NE, Marlborough Park AB | (403) 273-3166