Pediatric Dentistry at Madigan Dental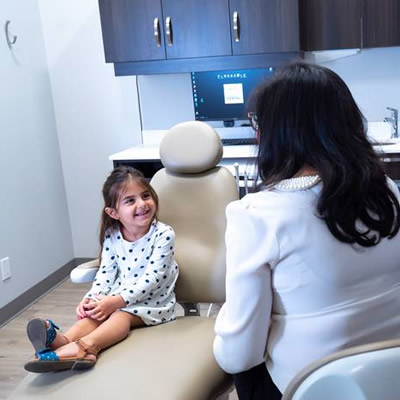 As a family dental practice, we're passionate about helping our youngest patients look after their smiles. Through preventative strategies and early intervention, your child may enjoy stronger teeth and reduce their risk of common dental concerns.
We make it convenient for everyone in your household to get gentle, quality dental care in the same location. Flexible scheduling options make it possible to book your child's checkups at a time that fits your busy routine.
A Child-Friendly Atmosphere
When we moved to our new location, we created a special area just for children. Our kid-friendly exam room helps young patients feel comfortable and excited about their visits with us. After we've checked their teeth, your child will be rewarded with a special gold coin that they can take to our treasure tower and select the toy of their choice.
Children's Services Offered
Routine Exams — Regular checkups allow us to identify potential concerns and intercept them when they're smaller, easier and less-invasive to correct (if not completely reverse). Doing so could help your child have a healthier smile and child and limit the amount of treatment they need in the future.
Preventative Sealants — Pit and fissure sealants protect cavity-prone areas that are hard to keep clean. A sealant takes only a few minutes to apply, so we can add them onto your child's regular scale and clean appointment. We recommend sealing permanent molars as soon as they erupt, which is usually around age 6 and 12, depending on your child.
Gentle Cleanings — Our hygienists use special tools to clean buildup and stain off of your child's teeth. Plus, we'll share tailored oral hygiene instructions to help them care for their teeth and gums as best as possible.
Fluoride Treatment — Fluoride is a natural mineral that strengthens tooth enamel and makes it more resistant against decay and sensitivity. We recommend a fluoride application at every checkup!
Tooth Restoration — Cavities can cause pain, interfere with your child's speech or diet and spread into adjacent teeth. Our practice offers mercury-free fillings for treating areas of decay and crowns for protecting teeth with significant structural damage. Since losing a tooth prematurely can physically alter your child's orofacial development, we aim to preserve their natural smile as long as possible.
Dental X-rays — Digital imaging shows us what's going on inside of your child's smile. From the position of teeth to infections we can't see during an exam, X-rays are crucial for a comprehensive assessment of your child's oral health. Plus, they use the lowest level of radiation possible!
Sports Mouthguards — Athletic injuries typically include broken or knocked out teeth. A protective mouthguard can reduce your child's chances of an emergency and also protect them against facial lacerations or concussions. All we need to do is take an impression of their teeth!
Orthodontic Evaluations — By the age of 7, we can make a good assessment as to whether any bite irregularities are developing. At that point, most children have a combination of both permanent and baby teeth. If any type of orthodontic treatment is required, we can make an appropriate referral at that time.
Dental Fillings — Tooth decay in primary (baby) teeth can spread quite rapidly and into adjacent teeth. It's best to intercept it early, repairing the cavity with a small white filling. Composite restorations are free of mercury and less-invasive to teeth.
Oral Hygiene for Children
Until your child can tie their own shoes, it's best to help them with their brushing and flossing. Choose a toothbrush that's small enough, so that it can reach each tooth throughout their mouth. Brush in a circular pattern paying attention to the gumlines, where plaque tends to be the heaviest.
Daily flossing is also important. Until your child's adult teeth start coming in, a handheld floss pick may be the easiest method to use.
Should I Bring My Child to a Paediatric Dentist?
There's always a place for seeing specialists like pedodontist. Children who aren't able to sit still for their treatment for one reason or another or who need extensive restorative work, may need to see a paediatric dentist who offers sedation and specialised care.
But as a family dentist office, we provide comfortable and convenient dentistry for everyone in your household. Now it's easier to book everyone's visits at the same place or even on the same day. By working closely with your family, we'll be more familiar with your different member's needs and goals. And should an emergency ever arise, we'll be able to facilitate quality treatments with a team you already know and trust.
Your Child's First Checkup
We want your child's initial visit with us to be one that's upbeat and positive. When they enjoy visiting the dentist, it helps reduce the chances of dental anxiety or phobia in the future. That's why it's so important to schedule checkups early, before dental problems or emergencies have a chance to pop up.
Plan to book a checkup with us by the time your child is 3 or 4. At that time we'll "count" their teeth and work at their pace, performing a brief exam and taking "pictures" (X-rays) if they're comfortable. Gradually, we'll work our way up to the clean and polish.
Children's Dental Emergencies
If your child is in pain or has a toothache, contact us straightaway. The first thing we'll do is arrange to see them as quickly as possible. Even if our schedule is busy that day, we'll make accommodations for your arrival. If it's after hours, we'll instruct you on what steps to take to get them the pain relief they need. When your child is comfortable, we'll walk you through our findings and then make a plan to restore their tooth or treat the infection that's present.
What do the Experts Say?
Paediatric health experts recommend that all children see a dentist by their first birthday and every six months thereafter. Contact our family dentist today to request an appointment!
CONTACT US »
Schedule Your Appointment Today
Contact us today to schedule your appointment for general dentistry in Calgary NE! We have same-day visits available.
*Our services are provided by general dentists.

Paediatric Dentist Calgary NE AB | (403) 273-3166